High School Girls Volleyball - Friday, Oct. 20
Girls Volleyball Tripleheader
Don't miss any of the action from Blue Valley North High School. Game 1 will feature Shawnee Mission South vs. Blue Valley North, then Blue Valley North meets Shawnee Mission West in the second game. Rounding out the night will be Shawnee Mission West vs. Shawnee Mission South in Game 3.
More Spectrum Sports Programming
9/29/17 - KSHSAA Eastern Kansas League high school football from Mill Valley High School in Shawnee, KS.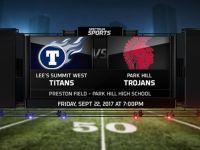 9/22/17 - MSHSAA High School Football game from Park Hill High School in Kansas City, MO
9/15/17 - Cross-state High School Football game, played at Shawnee Mission North High School in Shawnee Mission, KS.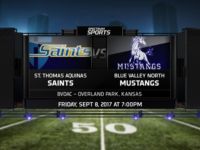 9/8/17 - KSHSAA High School Football game from Blue Valley North High School in Overland Park, KS